Harmony Healthcare International
2015 Post-Acute Care Trends Report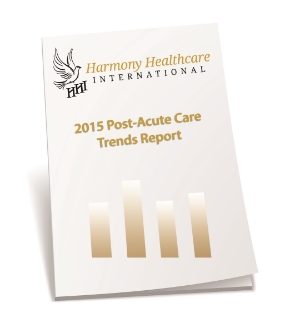 Over 1,200 Survey Respondents Detail Biggest Challenges for Industry
Documentation topped the list of biggest challenges faced by Skilled Nursing and Assisted Living facilities during 2014, despite the introduction of many regulatory and policy changes during the year. The survey queried Owners, Administrators, Directors of Nursing, MDS Coordinators, Directors of Rehabilitation and a variety of other interested parties who regularly visit the Harmony Healthcare International website or participate in the company's many educational programs and webinars.
To see how your facility's challenges compared to the HHI survey results, download the Harmony Healthcare International (HHI) 2015 Post-Acute Care Trends Report by completing the form on the right.
For help with documentation, census, staffing or YOUR facility's biggest challenge, please contact Harmony Healthcare International (800) 530-4413.